System quality and products
Our constant concern for quality allowed us to obtain the qualification ISO9001:2015.
This management system of quality based on improvement allows us to guarantee great satisfaction to our clients.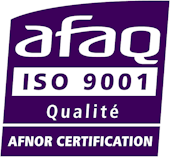 Quality of service
The overall approach of our teams taking part in the managing of your order :
- Upstream, our technical team advises you to assure the right development of products.
- Downstream, the logistics team assures the right path of finished parts, particularly via the implementation and flow of Kanban and management of open orders.
Environmental quality
We are concerned for the working environment of our staff and invest in their well-being (degreasing with a vacuum machine of modified alcohol, air-conditioned workspace, suction of oil fumes, etc).
We also preserve the exterior environment through the reduction and sorting of our waste.